ISO Approved Manufacturer & Exporter of ASTM B161/B725 Nickel 200 Pipe ,Nickel Alloy 200 werkstoff nr. 2.4066 Pipes & Tubes
Supplier, stockist & distributor of ASTM B161/B725 Nickel 200 Pipe in India, Nickel 200 Pipe & Tube, Nickel 200 seamless tubing, Nickel 200 Round Tubing, Nickel 200 Square Tubing, Nickel 200 Coil Tubing, Nickel 200 Instrumentation Pipe, Nickel 200 Condenser Tube, Nickel 200 Heat-Exchanger Pipes, Nickel 200 Seamless Pipe, Nickel 200 specialty Heater Tubes, Alloy 200 tubing, Alloy 200 Tube
JAGDISH METAL is a leading Suppliers & Manufacturer of nickel alloy Tubes and Pipes.
Are You Looking For UNS No. N02200 Seamless Pipes & Tubes, Welded Pipes & Tubes , ERW Pipes Suppliers in India.we are specialized in ASTM B161/B725 Nickel 200 Pipe since 1980. Offer unbeatable prices incorporating large discounts against a range of Nickel 200 grade Seamless Pipe, Nickel 200 SCH 40 Pipe, Nickel 200 SCH 80 Pipe, Nickel 200 rectangular steel tubing/ Solar Pipe, Nickel 200 Tuburia, Tubular Products in India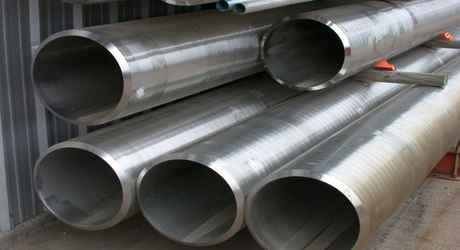 Nickel Alloy 200 makes it particularly useful for maintaining product purity in the synthetic fibers, handling of foods & caustic and also in structural applications. Nickel Alloy 200 retain its strength and is ductile at low temperature. Alloy 200 is a multipurpose grade and is used in application where alloys are not essential. It also has good magnetic and magnetostrictive properties. It has good mechanical properties and excellent resistance to many corrosive environments.
ASTM B161/B725 Nickel 200 Pipe & other nickel based alloys from these ranges are ideal for cost-effective manufacture of pumps, valves and process control equipment in oil and gas extraction.
Specifications:
Size
:
4 to 219mm W. T.: 0.5 to 20mm
Standards
:
ASTM / ASME
Type
:
Seamless / ERW / Welded / Fabricated / LSAW Pipes
Length
:
Within 13500mm
Form
:
Round, Square, Rectangular, Hydraulic Etc.
Grade
:

Nickel Alloy 200 (UNS No. N02200) Pipes & Tubes, 2.4060, 2.4066
Nickel 200 Seamless Pipes & Tubes: 161 / 163,B 161 / B 163
Nickel 200 Welded Pipes & Tubes: 725 / 730, B 725 / B730
Sr. No.

Material

Size

Sch.

Specification

Manufacturer

1

Nickel 200 Seamless Pipe

15 NB
To
300 NB

Sch. 5s
Sch. 10s
Sch. 40s
Sch. 80s
Sch. 160s
Sch. XXS

ASTM B161/ ASME SB161

Sumitomo Metals, Japan
Nippon Steel Corporation, Japan
Kobe Special Tube, Japan
Sanyo Special Steel, Japan
Tubacex Tubos Inoxidables S.A., Spain
Schoeller Bleckmann, Austria
Seah Steel Corporation, Korea

2

Nickel 200 Welded (ERW) Pipe

15 NB
To
300 NB

Sch. 5s
Sch. 10
Sch. 40s &
Sch. 80s

ASTM B725/ ASME SB725

3

Nickel 200 Welded (ERW) Pipe

150 NB
To
600 NB

Sch. 5s
Sch. 10s
Sch. 40s &
Sch. 80s

ASTM B725/ ASME SB725
Note:-

Grade


Nickel 200 Pipe
Nickel 200 Tube
Nickel 200 Tubing

Nickel 201 Pipe
Nickel 201 Tube
Nickel 201 Tubing

Nickel 200 Special Pipes

Fabricated Pipe (with radiography)

Nickel 200 Pipe In Form of

Round
Square
Rectangle

Oval
Coil
Flexible Pipe

Shaft
'U' Shape
Hydraulic pipe etc.

Nickel 200 Pipe In Length of

Standard & Cut length

Nickel 200 Pipe Value Added Service

Draw & Expansion as per required Size & Length
Polish (Electro & Commercial) Heat Treatment
Bending
Annealed & Pickled
Sand Blasting
Machining Etc.

Nickel 200 Pipe Test Certificate

Manufacturer Test Certificate
Laboratory Test Certificate from Govt. Approved Lab.
Under Third Party Inspection

Specialize Pipe

Fabricated Pipe
Square & Rectangle &
Other Odd Size
| | | | | | | | |
| --- | --- | --- | --- | --- | --- | --- | --- |
| STANDARD | WERKSTOFF NR. | UNS | JIS | AFNOR | BS | GOST | EN |
| Nickel 200 | 2.4066 | N02200 | NW 2200 | N-100M | NA 11 | НП-2 | Ni 99.2 |
Chemical Composition:
Nickel Alloy 200
Ni
Fe
C
Mn
Si
Cu
Mg
Ti
S
99.0 min
0.4 max
0.15 max
0.35 max
0.1 max
0.25 max
–
–
0.01 max
Mechanical Properties
| | |
| --- | --- |
| Density | 8.9 g/cm3 |
| Melting Point | 1446 °C (2635 °F) |
| Tensile Strength | Psi – 67000 , MPa – 462 |
| Yield Strength (0.2%Offset) | Psi – 21500 , MPa – 148 |
| Elongation | 45 % |