Titanium sheets, Titanium hot rolled plates, Titanium plates, Titanium alloy coils suppliers, ti cold rolled sheets, titanium® alloy sheets stockist in mumbai, india.
Din 3.7165 cold rolled sheets exporter, astm b265 titanium hr plates dealer, uns n56400 sheets supplier in mumbai, india.
JAGDISH METAL is a leading Suppliers & Manufacturer of titanium sheets & plates.
JAGDISH METAL are the highly esteemed industry that is pretty much involved in offering the widespread variety of Titanium sheet & plate. They offer the product at the economical rates to the universal as well as domestic buyers. The industry is completely involved in proposing the comprehensive ranges of product that is used in many applications in different types of industries all across the globe. The offered ranges of product are manufactured by using the superior quality of titanium alloy. The product is highly admired for its accuracy in weight ratio and has high tensile strength among other types of metals.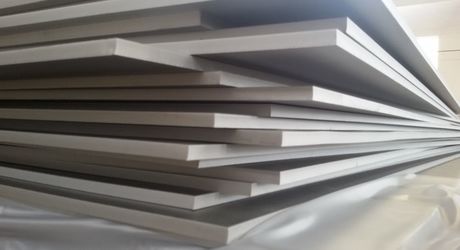 The industry worldwide dealing as a supplier, exporter, stockiest and producer are providing the titanium sheet & plate in custom made wall thickness and sizes as per the exact needs of the esteem patrons. They distribute the product to the universal and national buyers at market leading rates.
The fabrication of the product is strictly conducted under the strict guidance of professional experts that are holding good years of experience in the same zone. To make the error-free quality of the product, the product is fabricated with the help of the quality control team. The team is considering essential quality control parameters are looking at quality maintenance of the product.
ASTM B265 Titanium Alloy Gr 1,2,4,5,7,9,12 Plates, Sheets & Shims Specification
| | | |
| --- | --- | --- |
| Dimension | : | EN, DIN, JIS, ASTM, BS, ASME, AISI |
| Standard | : | ASTM B265 / ASME SB265, AMS 4911 |
| Size | : | 8mm to 100mm |
| Hardness | : | Soft, Hard, Half Hard, Quarter Hard, Spring Hard etc |
| Form | : | Coils, Foils, Rolls, Plain Sheet, Shim Sheet, Perforated Sheet, Chequered Plate, Strip, Flats, Blank (Circle), Ring (Flange) |
| Finish | : | Hot rolled plate (HR), Cold rolled sheet (CR), 2B, 2D, BA NO(8), SATIN (Met with Plastic Coated) |
Titanium Alloy Grade Sheets, Plates Equivalent Grades
| | | |
| --- | --- | --- |
| STANDARD | WERKSTOFF NR. | UNS |
| Titanium Gr 2 | 3.7035 | R50400 |
| Titanium Gr 5 | 3.7165 | R56400 |
| Titanium Gr 1 | 3.7025 | R50250 |
| Titanium Gr 7 | 3.7235 | R52400 |
| Titanium Gr 9 | 3.7195 | R56320 |
| Titanium Gr 12 | 3.7105 | R53400 |
Titanium Alloy Grade Shims Chemical Composition
| | | | | | | |
| --- | --- | --- | --- | --- | --- | --- |
| Grade | C | N | O | H | Ti | Fe |
| Titanium Gr 2 | 0.10 max | 0.03 max | 0.25 max | 0.015 max | bal | 0.30 max |
| Titanium Gr 5 | 0.10 max | 0.05 max | 0.20 max | 0.015 max | bal | 0.30 max |
| Titanium Gr 1 | 0.08 max | 0.03 max | 0.18 max | 0.015 max | bal | 0.20 max |
| Titanium Gr 4 | 0.08 max | 0.05 max | 0.40 max | 0.015 max | bal | 0.50 max |
| Titanium Gr 7 | 0.08 max | 0.03 max | 0.25 max | 0.015 max | bal | 0.30 max |
| Titanium Gr 9 | 0.08 max | 0.03 max | 0.15 max | 0.015 max | bal | 0.25 max |
| Titanium Gr 12 | 0.08 max | 0.03 max | 0.25 max | 0.015 max | bal | 0.30 max |
Titanium Grade 2 Plate, Sheet Mechanical Properties
| | | | | |
| --- | --- | --- | --- | --- |
| Min.Tensile(KSI) | Min.Yield(KSI) | Hardness | Tensile Modulus | Poisson's Ratio |
| 50 | 40 | 14.9 | 103 GPa | 0.34-0.10 |
Titanium Grade 5 Plate, Sheet Mechanical Properties
| | | | | |
| --- | --- | --- | --- | --- |
| Min.Tensile(KSI) | Min.Yield(KSI) | Hardness | Tensile Modulus | Poisson's Ratio |
| 130 | 120 | 16.4 | 114 GPa | 0.30-0.33 |