Aluminium 2017 Cold Rolled Sheet Suppliers, Aluminium Alloy 2017 Hot Rolled Plate Manufacturers, Aluminium 2017 Cold Rolled Sheet Suppliers, Aluminium Alloy 3.1325 Plate, ASME SB209 Aluminium Alloy 2017 Diamond Plate Stockist, Aluminium Alloy A92017 Sheet.
2017 Aluminium Alloy Plates, Aluminium Alloy 2017 Chequered Plate Exporters, Werkstoff-Nr. 3.1325 Sheet, UNS A92017 Plate, ASTM B209 Aluminium Alloy 2017 Sheet and Plate, Aluminium Alloy 2017 Flat Sheet Supplier in Mumbai, India
JAGDISH METAL are one of the top most popular suppliers of Aluminium Alloy 2017 Sheet & Plate. The Aluminium Alloy 2017 Sheet & Plate, in general, is heat treatable based wrought alloy along with intermediate strength. The Aluminium Alloy 2017 Plates and Sheets are stronger in the complete series of alloy 2017. The product is highly formable and ductile with high aluminium content. Resistance and arc weldability of alloy 2017 is possible and can give satisfactory results. Features like excellent fatigue and high strength with good machining give rise to aluminium alloy 2014 sheets and plates. The product is suitable for welding purpose for its usage in numerous applications. Max steels are the leading supplier and manufacturer of alloy 2017 plates and sheets. Some of the composition includes iron, zinc, titanium, manganese, copper, aluminium, and magnesium. We proffer sheets and plates in different sizes, thickness, forms, finishing, standards, and dimensions. Moreover, we promise to make high quality temper in accordance with patron request. The bottom side of sheets and plates get coated with an appropriate protective layer or polyester material with 6-micron thickness.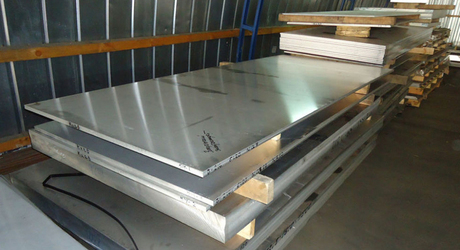 These Aluminium Alloy 2017 Sheets / Plates are made available in standard/customized sizes according to customer requirements. Due to high corrosion resistance, they are available in various alloys offering a range of weldability, corrosion resistance and machinability.
Aluminium Alloy (2017) has high strength with excellent fatigue strength. Alloy 2017 likewise has great machining qualities. Aluminium Plate 2017 is reasonable for welding just by protection welding. Alloy (UNS A92017) is utilized for different applications from high quality basic parts, aircraft, machine development, military equipment, rivets.
Specification Of Aluminium Alloy 2017 Sheets & Plates:
| | | |
| --- | --- | --- |
| Standards | : | ASTM B-209, EN573, and EN485 |
| Grade | : | Aluminium Alloy 2014 (UNS A92014) |
| Thickness | : | 0.5mm-150mm |
| Width | : | 500-2000mm |
| Type | : | Hot-Rolled (HR) / Cold-Rolled (CR) Sheet / Plates/ Strips/ Coils/ Chequered Plates |
| Processing | : | Cutting, Forming Drilling/ Machining, Grinding, Testing |
Chemical Composition Of Aluminium Alloy 2017 Sheets & Plates :
| Al | Weight% | Si | Fe | Cu | Mn | Mg | Cr | Zn | Ti | Others Each | Other Total |
| --- | --- | --- | --- | --- | --- | --- | --- | --- | --- | --- | --- |
| 2017 USA | Rem | 0.20-0.8 | 0.7 max | 3.5-4.5 | 0.40-1.0 | 0.40-0.8 | 0.10 max | 0.25 max | 0.15 max | 0.05 max | 0.15 max |
Mechanical Properties Of Aluminium Alloy 2017 Sheets & Plates :
| Alloy | Fe | Si | Mg | Mn | Cu | Zn | Ti | Cr | Each | AI |
| --- | --- | --- | --- | --- | --- | --- | --- | --- | --- | --- |
| 1100 (min) | 0.35 | 0.25 | 0.01 | 0.01 | 0.05 | 0.01 | 0.020 | Trace | 0.05 | 99.60% |
| 1100 (max) | 0.50 | 0.35 | 0.03 | 0.05 | 0.20 | 0.05 | 0.030 | Trace | 0.15 | remainder |
Applications Of Aluminium Alloy 2017 Sheets & Plates: :
Aircraft
Machine Construction
Military Equipment
Pneumatics
Marine, Engineering Works