Aluminium Alloy 5083 Plates | Aluminium Alloy UNS A95083 Sheets Exporter | Aluminium Alloy 5083 Chequered Sheets | Aluminium Alloy ASTM B209 Plates, Jindal 5083 Aluminium Plate Dealers
Aluminium Alloy ASTM B209, B210 Plates | Aluminium Alloy 5083 Sheets | Aluminium Alloy UNS A95083 Chequered Plate Supplier in India
JAGDISH METAL are providers of Aluminium Alloy 5083 Plates and Sheets, Aluminium Alloy UNS A95083 Checkered Plate , Aluminium Alloy ASTM B-209 Sheets, Plates and loops , Aluminium Alloy 5083 Checkered Plate. Aluminium 5083 is an Aluminium magnesium composite which can be solidified by chilly work: it isn't warm treatable to higher quality. It is about mid route through the arrangement of Aluminium magnesium amalgams for alloying substance and strength.To meet the quality aware necessities for our fundamentally respected clients, we offer Aluminium Alloy 5083 Sheets and Plates in different sizes, thickness, standards and shapes as per changed requirements given by our clients.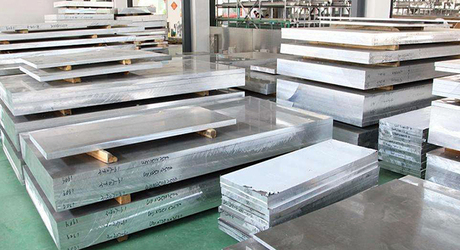 It is readily formable and fabrication of aluminium 5083 is easier. The blanking and piercing are easier due to clearance of 7% thickness. It is welded readily using MIG and TIG processes using other alloys. In order to avoid porosity and contamination due to welding, the aluminium alloy sheets and plates are manufactured appropriately. Max steels offer product data sheet to the clients that make no execution of further investigations. The product is packaged well after its testing. You can get documents along with the aluminium alloy 5083 sheets & plates.
We can also provide customized solution and cut to length service. These plates find application in high-stress applications, trusses, bridges, cranes, transport applications, or skips, barrels, and milk churns.5083 Aluminium Sheet Temper 0, H32, H34, H38 as per ASTM B209, ASTM-B-209, EN573, and EN485 international standards. O, H111, or H112, UNS A95083, AMS-QQ-A-200/45083 AMS 4051 Plate, AMS 4051 7178-0 Alclad Plate, QQ-A-250/15 T0, 7178 A95083 Aluminium Plate 5083 Aluminium Plate ASTM B209, ASTM-B-209, EN573, and EN485 international standards.
Aluminium Alloy 5082 Sheet and Plate Specification
| | | |
| --- | --- | --- |
| Standards | : |  ASTM B209 / ASME SB209 |
| Temper | : |  O, F, H12, H14, H16, H18, H19, H22, H24, H26, H32, H34, H36, H38, H111, H112, H321, T3, T4, T5, T6, T7, T351, T451, T651, T851 |
| Thickness | : |  0.2~300mm |
| Width | : |  500~2500mm |
| Length | : |  500~10000mm |
| Surface | : |  Bright, polished, hair line, brush, sand blast, checkered, embossed, etching, etc. |
| Finish | : |  Mill, Customer specific finish |
| Aluminium Sheet/ Plate Coating | : |  PVC Coated, Color Coated, Polyester, Fluorocarbon, polyurethane and epoxy coating |
| Type | : |  Hot-Rolled (HR) / Cold-Rolled (CR) Sheet / Plates/ Strips/ Coils/ Chequered Plates |
Chemical Composition Of Aluminium Alloy 5083 Sheets & Plates :
| Weight% | Al | Si | Fe | Cu | Mn | Cr | Mg | Ti | Zn | Other Each | Others Total |
| --- | --- | --- | --- | --- | --- | --- | --- | --- | --- | --- | --- |
| 5083 | Bal | 0.40 max | 0.40 max | 0.10 max | 0.40 / 1.0 | 0.05 / 0.25 | 4.0 / 4.90 | 0.15 max | 0.25 max | 0.05 max | 0.15 max |
Mechanical Composition Of Aluminium Alloy 5083 Sheets & Plates :
| Properties | Metric |
| --- | --- |
| Proof Stress | 125 Min MPa |
| Tensile Strength | 275 - 350 MPa |
| Hardness Brinell | 75 HB |
| Elongation | 12 Min % |
Applications Of Aluminium Alloy 5083 Sheets & Plates: :
Pressure Vessels
Welded Structures
Desalination Units
Welded Structures
Storage Tanks