Aluminium Alloy 5052 Plates | Aluminium Alloy UNS A95052 Sheets Exporter | Aluminium Alloy 5052 Chequered Sheets | Aluminium Alloy ASTM B209 Plates
Aluminium Alloy ASTM B209 Plates | Aluminium Alloy 5052 Sheets | Aluminium Alloy UNS A95052 Chequered Plate Supplier in India
JAGDISH METAL are providers of Aluminium Alloy 5052 Plates and Sheets, Aluminium Alloy UNS A95052 Checkered Plate , Aluminium Alloy ASTM B-209 Sheets, Plates and loops , Aluminium Alloy 5052 Checkered Plate. Aluminium 5052 is an Aluminium magnesium composite which can be solidified by chilly work: it isn't warm treatable to higher quality. It is about mid route through the arrangement of Aluminium magnesium amalgams for alloying substance and strength.To meet the quality aware necessities for our fundamentally respected clients, we offer Aluminium Alloy 5052 Sheets and Plates in different sizes, thickness, standards and shapes as per changed requirements given by our clients.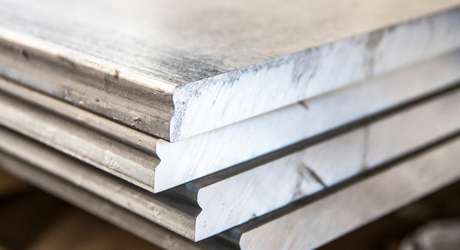 The testing in the industry is conducted only to check whether the offered range of product is having any defect or not. The tests in the manufacturing industry are conducted are PMI test, IGC test, chemical analysis, mechanical test, flattening test, flaring test, macro/micro test etc. The documents including fumigation certification, commercial invoice, guarantee letter, packaging list, QAP, heat treatment chart, raw material test report, material traceability etc are provided. With the careful packaging of the product using wooden cases/pallets, carton boxes, bubble wrapping etc the product gets full safety when shipped. Thus no severe damages can cause greater harm to the product.
AMS QQ-A-250/8, ASTM B 209, AMS 4015, AMS 4016, AMS 4017. 5052 Aluminium Sheet Temper 0, H32, H34, H38 as per ASTM B209, ASTM-B-209, EN573, and EN485 international standards. 5052-H32 Aluminium Sheet: ASTM-B-209, AMS-4016
5052-O Aluminium Sheet: ASTM-B-209, AMS-4015
5052-H38 Aluminium Sheet: ASTM-B-209
AMS 4016 Plate, 5052 H32 Aluminium Plate, ASTM-B-209 H32 5052 Plate, 5052 H34 Aluminium Plate, AMS-4015, 16, 17, QQ-A-250/8. 5052 Aluminium Plate ASTM B209, ASTM-B-209, EN573, and EN485 international standards.
Composition
| GRADE | Si | Fe | Cu | Mn | Mg | Cr | Zn | Ti | Al |
| --- | --- | --- | --- | --- | --- | --- | --- | --- | --- |
| 5052 | 0.50 | 0.50 | 3.8/4.9 | 0.30/0.9 | 1.2/1.8 | 0.10 | 0.25 | 0.15 | Balance |
Mechanical Properties
| Mechanical Property | Value |
| --- | --- |
| Hardness, Brinell | 47 |
| Specific Heat | 0.88 J/g-°C |
| Poisson's Ratio | 0.33 |
| Melting Point | 607 - 649 °C |
| Electrical Resistivity | 4.99e-006 ohm-cm |
| Modulus of Elasticity | 70.3 GPa |
Physical Properties
| Physical Property | Value |
| --- | --- |
| Density | 2.62 g/cc |
| Ultimate Tensile Strength | 64-57 Ksi |
| Tensile Yield Strength | 42-41 Ksi |
| Elongation | 12-4 % |
Applications
| | | | | |
| --- | --- | --- | --- | --- |
| Chemical Equipment | Architectural Paneling | Home Appliances | Building and Construction | Marine, Engineering Works |
Other grades of Aluminium Alloy 5052 Sheets & Plates
| | |
| --- | --- |
| UNS A95052 Plates Jindal | Aluminium Alloy 5052 Sheets |
| 5052 Aluminium Patterned Plate | Aluminium Alloy ASTM B-209 Sheets, |
| 5052 Aluminium Flat Sheet | Aluminium Alloy ASTM B-209 Chequered Plate. |
| Hindalco 5052 Aluminium Sheet Dealer | Alloy 5052 Plates & Sheets |
| Hot Rolled 5052 Aluminium Sheet | Aluminium Alloy UNS A95052 Chequered Plate Jindal |
| Hot Forming 5052 Aluminium Plates | Aluminium Alloy ASTM B-209 Sheets |
| Cold Rolled 5052 Aluminium Sheets | Aluminium Alloy UNS A95052 Plates |
| Alloy 5052 Chequered Plate | Alloy 5052 UNS A95052 Hindalco |